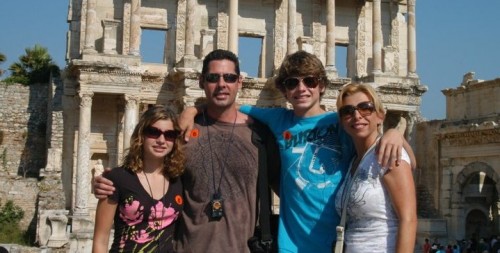 What will your legacy be?   Too many people don't give this question enough thought and chase work and money until it's too late.   And there's nothing wrong with work, by the way, as long as you're doing something that inspires you to your best and God's greatest for you and for others.  Most of the world's greatest people worked very hard and are recognized for the contributions that came at the expense of rest and leisure time.
But the measure of a man (or woman) is not how hard you worked as much as it is about how well you lived.   To put it more accurately, I'll quote Randy Pausch who said:
We don't beat the [grim] reaper by living longer.  We beat the reaper by living fully.
Randy Pausch is the Carnegie Mellon Professor now famous for giving what became known as "the Last Lecture" before his early death at 47 following a brief but fatal battle with pancreatic cancer.
He left behind three kids and a wife in a way that was more breathtaking than any premature death story you've heard.  Instead of people crying about what a shame it was that he missed out or that his family missed out on so much else that could have happened, everyone that was interviewed or attended his last lecture, broke into tears because he DID live life to the fullest, every day.  He didn't wait until he found out that he had pancreatic cancer and try to cram all of his wishes into the next 22 months before he died.
Instead, he chased his dreams everyday.  And by doing that, he inspired everyone around him.   Thankfully for the rest of us, he was also given a platform to tell tens of millions of people about his approach to life.  Maybe that's why God chose to use him this way, so that the rest of us would learn from his example, and live life like we were dying – because we are.  We just don't know how many days we have left.
I decided not too long ago that I wasn't waiting any longer to do the things I've always dreamed about. What's holding you back?   If you have not watched the last lecture, I encourage you to watch it.   Here's an excerpt: