Do You Hate Being an Attorney? Are You Tired of Being a Lawyer? Would You Like to Stop Practicing Law?
Is there a way to escape the law?  You're about to find out.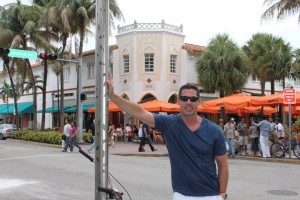 Hi! My name is John Cummings and I am a lawyer. Actually, I am a recovering lawyer and, in some ways, a fugitive from the law. Although I practiced actively as an attorney in New Jersey and New York for over 10 years, I now spend very little of my time practicing law. Instead, I've spent the last 12 years building wealth and fine tuning how to do that with less and less effort every day.
I don't hate being a lawyer. There are a lot of things I've loved about being a lawyer and I actually sat for the bar in Florida so I could practice here when I want to. But I much prefer enjoying my new life in Florida after escaping my full time law practice.  Whether you want to get out of practice altogether or just want to enjoy it more and spend less time doing it, please read to the end.
Now, I work about 4 hours a day and my biggest passion is helping other lawyers, like you, escape the chains of the practice of law and enjoy a new level of freedom every day!
And before I tell you about how I do that, I want you to know that I didn't move into a trailer in the woods to have extra time. After leaving my practice, I actually tripled my income in about 12 months.  I live in a very nice home in Palm Beach County Florida and drive very nice cars. My new lifestyle has given me the money and more importantly, the time, to take my family on trips to Europe during the summer months and on ski trips each year. And while I am on those trips, I continue to earn money every hour of every day.
One thing I never got to do when I was practicing full time was play golf or enjoy boating with my family. Now I do, routinely, on weekday afternoons, while my friends and colleagues are at their desks.
But this is not a get rich quick story. I know I'm talking to fellow colleagues in the law practice and I would not want to insult your intelligence. Like many of you, I fought hard in a tough job market to get a job at a top law firm. Then, I opened my own firm and later, took a lot of risks to leave the practice of law. Like many of you reading this, I left with a large student loan debt still looming and with dozens of friends and family questioning my sanity. "You want to do what? Why would you go through all of that school and take the bar and then leave all of that behind?" If you've even whispered about the possibility of "getting out", you've heard similar reactions, I am sure.
It took me 12 years to learn, test and prove the concepts now contained in the Barefoot and Rich System which is guaranteed to help any professional, especially lawyers, make an escape that includes plenty of money, and plenty of time. Except that now that it's written, it doesn't take 12 years to implement. YOU can start this process in less than 30 days and be completely OUT of your law practice in less than a year if that is your goal and if you stick to this system.
What you'll learn in my system and particularly in my first module of the system, is that pursuing money is the mistake we all make. By pursuing money, we end up with no time, whether we find the money or not.  But if you pursue time, you will achieve time AND you will achieve wealth – more than you imagined.
So to spare you the trouble of figuring all of this out, I've written the Barefoot and Rich System. Whether you're looking to get out of the practice immediately and start something else or you just want to enjoy your money and your time, my system will put you on the road to your goal in under a month.
Thank you so much for your talk at this week's business academy.  Your talk was excellent, clearly from the heart and it was very inspiring – you have an amazing story to tell!  And thank you so much for signing my copy of Killing Time Vampires.   I really needed it.  You see, it's even worse than I thought. When I multiplied the number of emails that appear at a time by the number of pages of emails I have in my inbox, I came up with the staggering number of 21,522.  And this is only one of my email accounts.  Your book is excellent and well written and I am looking forward to the next phase after I get this first part under control. Many Thanks & Blessings, Michele Conreur, Boynton Beach, Florida
The first part of the system is called "Killing Time Vampires" and I've helped hundreds of people get out of their rut with this one small, but powerful part of my system.  I guarantee that once you take this small step, you'll never see your day, your schedule, your career or your life, the same way again. Instead, you'll see that in every day, you have at least one hour that you didn't know existed. And by the end of two or three weeks, you'll leverage the extra margin in that extra hour to create another hour of time.  Once you do that, the magic happens. And when it does, I want to show you how you can finally do what YOU want.
This book is great! I wanted to read it in one sitting so I got up early today and read it cover-to-cover. Your roadmap in the beginning with your personal history got me very excited and eager to read the rest of the book. It made me reflect on my path, my life, and my daily challenges. I am revaluating the way I have been attacking my email work flow and realizing that this is a huge game changer for me. Something so simple. I am going to follow your model. After practicing for 20 years and feeling like I had my time figured out, I felt like I was sitting in a seminar and someone switched a light on. Still practicing but spending less time in my office! ~Tony Davis, Attorney in Paramus, New Jersey.
The Killing Time Vampires module is normally included in my $599 per month coach offering as a way of getting lawyers and other professionals over the initial hurdle. And it's really effective. But I can't expect to coach everyone individually. So, I decided to make Killing Vampires available for just $37 to get you started on the path regardless of whether you want coaching. I know once you have it and follow it, this book will get YOU over the first hump too.
John, I am sorry it has taken me so long to reach out and thank you for what you have done for me. Your book and the coaching you provided to me have literally changed my life on a daily basis. Being a top producer in business development for so many years, I think I got a little bit lazy about what I do every day. Well, I know I did. When I first met you, I had no control over my day and had no idea why I kept making less and less money.  You told me to try the killing vampires technique but I thought that was just another thing to do and very unimportant to my sales and income. I realized quickly how wrong I was. After 2 weeks, I finally got control of my email, my schedule and even my calls. Within 2 months, I doubled my sales and start every day knowing that I'll end it with a bang. I can't thank you enough. Looking forward to our next coaching session. Carol Hornsby, Lauderdale by the Sea, Florida

I understand that this is not the solution for everyone. If you already have your situation under control or you're perfectly happy where you are, you don't need my help. Not everyone does. But in case you think you might benefit from my system, I want to give you a chance to try this first module without any risk. After all, I gain nothing if you try this and don't benefit from it. As you can imagine, I'm not making my money $37 at a time.  So I'm willing to give you your money back, no questions asked, if you follow the system for 30 days and are not 100% satisfied.
I've decided to keep the Killing Time Vampires module available as a separate offering for only a day or two. As of now, I'm planning on making it available going forward ONLY as part of my coaching packages.  But as long as this offer is available, I'm also including my new 30-Day e-Course to help you implement the first module with my full support.  Although my personal coaching on this and other modules starts at $299 per hour, the 30-day course "Get UNSTUCK" is included with your Killing Time Vampires purchase today.
So, for a total of $37.00, just to prove that I have a system that works, I want to give you a very quick win.  You'll get my 65-page Killing Time Vampires book with my entire story and the first 30 days of my system along with a 10-part video e-Course that alone sells for $197.00.  Instead of paying $599 for coaching or $197 for the video e-Course, you'll get both of those offerings for just $37.00.
And with this offer, I would like to also offer you a free 30-minute phone consultation to discover what your challenges are and get you on a jumpstart to your escape from your daily grind, immediately. That's another bonus worth $150 for a total savings of over $850 if you place this order today. I want you to take advantage of this offer because I know that when you create just a little bit of margin, you'll be ready to move on and take advantage of the rest of the Barefoot and Rich System.
Are you doing what you want to do every day?
Get Started Now.
Start Your Escape Today!
Order now and receive immediate access to the Killing Time Vampires e-Book Module with 65 pages of specific information about beginning your escape plan and detailed instructions on how to start digging out from Day One. Your success is guaranteed in just 30 days!
Order Online By Safe, Secure Server
You will receive instant access to the book and bonuses (Even if it's 2:00 AM)
REMINDER: This Offer is Only Available for a Limited Time
Getting your hands on all of the Killing Time Vampires offerings is simple and direct:
After clicking the purchase link, you will be taken to a SSL (Secured-Socket Layer) Protected page hosted by Clickbank, which accepts all major credit cards or can access a Paypal account. After the purchase is confirmed, you will be automatically sent to a special page I set up to allow you to download your Killing Time Vampires e-Book for immediate access.
You can start the process, and in less than 10 minutes, you will be reading the information you need to start the journey to a new you, regardless of what time it is, day or night, and regardless of where in the world you are located. Think about it: in less than an hour you can have your strategy in place for the next 30 days.
Don't wait another second. It is time to get started. This powerful system will give you the exclusive information you need to begin YOUR escape, THIS SECOND
The time for action is now . . .
but only YOU can take it!
I've put together the resources you need to get the life you want. I've made it so that you can access the information anywhere in the world, any time of day or night. I have even guaranteed that it will work if you follow the System. But the final action is yours. Only you can decide if it's worth the small amount of effort needed to make it happen.
If you're ready to finally take action, CLICK HERE!
To Your Success,
John Cummings
P.S.  Please check out my Facebook page for photos and inspiration about your escape at http://facebook.com/BarefootandRich
---
More about The Barefoot and Rich System:
Killing Time Vampires is just the start of the Barefoot and Rich System. Most attorneys that I work with don't actually know what they would do with 4 extra hours every day because they have been too busy for too long, to figure it out. That's why in module two, "Planning Your Escape" I work with clients to figure out what they want to do once they get themselves unstuck.
A Bottom Up Approach: While most coaches work with their clients from a top-down approach first (what do you want to do with your life?), I realized that 95% of the attorneys and professionals I talk to are "TOO BUSY" to stop and think about what they want to do when the y grow up.  Hence, the first module, Killing Time Vampires, which empowers you to free up time by following very simple but powerful time creation techniques. The biggest objection I run into from attorneys (objections – go figure), is that attorneys think they are too smart for something as simple as "time management" or "better productivity".   Sadly, it's this one small block that keeps lawyers on a treadmill.
For those who do choose to take a leap into more control over their day as the FIRST STEP, here is the typical path my clients follow:
Step 1 – Killing Time Vampires – ORDER THIS NOW.
Step 2 – Plan Your Escape – After freeing up 1 or 2 hours in every work day (guaranteed with Killing Time Vampires), I will help you figure out whether you want to continue practicing or move towards your passion in life (teaching, writing, consulting and more)
Step 3 – Rebuilding Personal Energy Through Advanced Time Creation – This sounds really fancy but it's actually a very simple set of techniques that will help you master the pillars of elimination, delegation and automation to really free up time.  In this phase (even if you bill by the hour), you can cut your work day in HALF!
Step 4 – Building Your New Brand – Whether you're continuing to practice or decide to follow another calling you've been hoping to do "someday," this step will help you to create your new identity and brand to really maximize income and become the best known and best at your skillset.
Step 5 – Owning It Like a Millionaire – Once you're brand is established, I'll show you how to generate wealth without spending additional time to do it, in any profession or practice area.
The Barefoot and Rich System is the guaranteed and proven system to enable you to reach the goals you may have long forgotten about or given up on. Get Killing Time Vampires today and let's start to rebuild, one day at a time. Before you know it, you'll have more money and more importantly, more time to enjoy it.