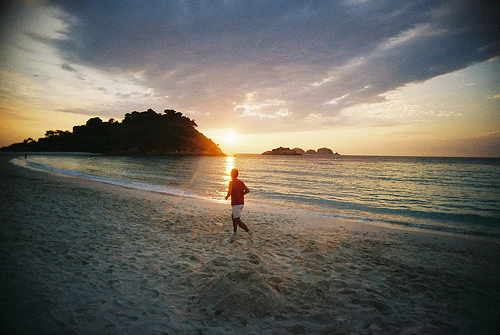 I ran my best 5K ever this morning!   (fitness)   I also had my best sales month ever last month (finance).  Things are going really great this week with my wife (family) and kids (fatherhood).    I thank God for all of the blessings that are pouring out over my life, continuously, even when I don't see them.  (faith).    All of these statements are true of my life today.   I really did run 3.1 miles this morning in the hot Florida sun at a pace I've never run at before for that distance (about 7:30 per mile).   While I did it, I thought of how great things are going and I wanted to document it in a way that would be a catalyst to others.
By now, you have had one of two reactions to my good fortune.  Raise your hand if you thought I was boasting about my own accomplishments and had a "good for you, John" (sarcastic) reaction.   I get it.   I read facebook.   I have friends and family with problems.  I've had a few of my own problems.   The other possible reaction is "good for you!" (genuinely).   Either way you reacted, I probably hit it right on the head, right up the fairway, bullseye!  My goal was to motivate you.   Whether I excited you or angered you, you'll probably want to do something about it.
The reason for how I'm feeling and doing today, this week, this month, this year, really, is that I've been working off of a Personal Energy Plan and a "Perfect" Schedule, two critical tools to "getting it right" every week, if not every day.  For most people, each day starts out with a plan focused around work, finances and problems.   Usually, it's a worried approach that springs from fear and scarcity, rather than abundance and power.  "What am I going to do at work today with all of these things happening?"    "How can I make more money than I'm making?"    "What am I going to do to start making my bills without working so hard?"    I would like to suggest that you may be looking at it the wrong way.   It's time to build a personal energy plan and perfect schedule around some "F" words.
Personal Energy Plan – This is really simple and if you don't have one of these, I highly recommend it.   If you think that you're too busy to spend 30 minutes to do this, then you really need to do it.   A personal energy plan (PEP) can be less than a page.  It's a list of the things that you wish you could do every day or every week that would make you fall asleep with a smile on your face.   Here is a list of things that might be on your list. Some are on mine.   You can use them if you like.
If you want a list that results in a schedule that works, I highly recommend that you include this post in Skycube that has some items that relate to Faith, Fitness, Family, Fun and Finances, to name just a few "F" words.
-Pray (daily)
-Workout (every day except Sunday)
-Talk to Mom (weekly?)
-Take a nap (daily?)
-Get my email inbox to EMPTY! (daily)
-Read a few pages of a book that has nothing to do with work (daily)
-Spend at least 30 minutes with each of my kids, undivided attention (daily)
-Bring a healthy lunch to work (daily)
-Enjoy a favorite dessert (once a week)
-Call 10 new prospects (daily)
-Send follow ups to 10 existing leads (daily)
-Write a chapter in my book (weekly)
These are just a few examples but the items you put on your list will be / should be the core of your perfect schedule.   Here is how this works.  Once you have identified everything that you wish you were doing each day (or need to do to reach longer term goals such as publishing a book or reaching a sales goal, etc.), you have the basic ingredients for your Perfect Schedule.  So be bold. Dream a little.  Put down everything that you can think of.   Then, let's see what we can fit into your schedule.
Perfect Schedule – Like your PEP, this should be created in a mindset where all things are possible, within the parameters of your job and your family commitments, of course.  The best way to create this is in Excel as a spreadsheet where you can easily make 7 columns, one for each day of the week, and as many rows as you want.   You can make appointments for every 30 minutes, every hour, every minute.  Whatever you want.    And if you don't like, don't have or never heard of Excel, don't worry about it.  Do it in Word.  Do it on paper.  Write it in the sand (my favorite).  We're just planning, right?

Start with Monday.    How does your day start?   Well, if faith and fitness are on your personal energy plan, you probably need to squeeze in a workout and a prayer.  If you're accustomed to grabbing a bagel and a diet coke with your tires on fire on the way to work just 15 minutes after you got out of bed, we may need to make some adjustments.   So start backwards.   What time do you HAVE to be at work.   Set that down.  Maybe it's 9:00 a.m.    What time do you need to leave the house to get there by 9:00?  Let's say it's 20 minutes to work.   Put down "travel to work" at 8:30.   What time do you need to start getting ready (in the shower) to be able to leave at 8:30?   Let's assume 30 minutes.  Put "Get in the shower" at 8:00.
You see where this is going right?  Now map out the mandatory items for your schedule for the day.  Build in lunch.  Build in that nap.   Build in your workout. Maybe you need to set down 5:30 am as "Wake Up" time to make that happen.  No problem.   You may need to adjust "Bed Time" to make that happen.   Do this for every waking moment of your day and then repeat for the rest of the week.   I prefer to not schedule anything on Sunday other than actual commitments because Sunday is my day of rest.
Tips:  Don't feel obligated to do this all in one sitting.   Do it at night or on the weekend when your head is clearer and out of work.   And change it a hundred times until it looks like a schedule that would make you sleep like a baby every night because you're actually doing all of the things you wish you were doing.
And if you need help getting started, email me.  I'll be happy to spend 30 minutes on the phone with you at no cost, to get you started.  I'll even send you a template of MY perfect schedule.   Good luck!